| | |

Ul. I. Krasickiego 26, 02-611 Warszawa, tel. +48 22 56 67 200, fax +48 22 56 67 202, e-mail:
sekretariat@aotm.gov.pl
NIP 525-23-47-183
"Pacjenci mogą odzyskać zdrowie niezależnie od leków lub za ich pomocą" J.H. Gaddum
HTA 2.0 Europe – Teaming Up for Value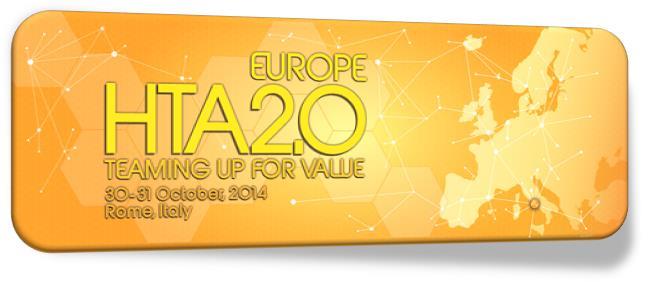 Join 600 participants from all sectors relevant to health,
including policymakers, payers, academia,
technology assessors, industry, and civil society at the conference
"HTA 2.0 Europe – Teaming Up for Value"
30-31 October, 2014, in Rome, Italy
Going over results of concrete collaboration practice across European borders among health technology assessment (HTA) bodies, regulators, researchers and stakeholders, the conference will address questions such as

•   What are the key achievements in the European cooperation in HTA that may impact national/regional healthcare
    systems and meet their needs?
•   What is the present-day state of the interface between HTA, research, regulation and health policy making?
•  What are the current challenges and opportunities in getting effective technologies to the patients in Europe?
For complete details visit www.eunethta2014.it


Benefit from the early bird registration!

Register now

Ci vediamo a Roma!

See you in Rome!
| | |
| --- | --- |
| The HTA 2.0 Europe conference is an official event of the Italian presidency of the Council of the European Union | Under the patronage of the Italian Ministry of Health |
 

---

e HTA 2.0 Europe conference is orgnised as part of the EUnetHTA Joint Action 2 which has received funding from the European Union, in the framework of the Health Programme

 

Ul. I. Krasickiego 26, 02-611 Warszawa, tel. +48 22 56 67 200 fax +48 22 56 67 202, e-mail:
sekretariat@aotm.gov.pl